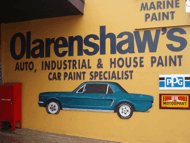 Olarenshaw's Paint Centre have been supplying paint and expert advice since 1957.

Today we stock a wide variety of paint brands, with a vast amount of colour and finishers available, and products to enable our customers to achieve what they're looking for.

Colour matching forms an essential part of our business. Each staff member has had vast experience in the paint industry and will be able to solve any problem you may have.

We are stockists of a full range of automotive, industrial, marine and house paints, plus a full range of accessories and painting aids. Our staff are able to assist with colour selection and co-ordinations. With vast experience in the paint industry each of our staff can advise on any technical issue that may arise.

A further service provided to our customer is a custom colour matching service. This allows us to achieve the closest possible match to an existing colour or to tailor the colour to the customer's needs.