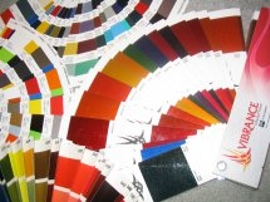 One of our specialist areas is Custom Colour Matching.

Custom Colour Matching is where we use our years of experience to interpret which combination of pigments are needed to match a given colour. To do this we use the latest daylight colour matching lamps and the hundreds of pigments available to us.

People come to us to have colours matched for a variety of reasons.

In the automotive field, most modern colours have "variants" - colours that do not match the manufacturer's original standard. It is therefore not uncommon to need to adjust the formulated colour to achieve an acceptable match.

On a project car, someone may want a colour that is "different" - we can do this by matching to the customers sample eg. Magazine, photo, fingernail polish, drink can or by working with the customers input as we put the colour together.

In industrial settings it could be that machinery has been exposed for a long time and is faded or is imported from overseas and the colour is therefore unknown. Motorcycles being imported need to be individually matched in most cases.

Commercial building sites use coatings which are factory application only. So to touch up scratches caused during fitout, these colours need to be matched into a suitable touchup paint. Our custom spray cans are perfect for this as they can be used onsite by a team of workers to rapidly touch up many areas of damage at one time.